January has been recognized as National Slavery and Human Trafficking Prevention month since 2010. It is a time to focus our efforts on raising awareness of the global problem of trafficking in persons and rededicate ourselves to combatting human trafficking in all of its forms. We must also look at what is necessary for effective prevention that will prevent people from becoming victims in the first place.
United States law defines human trafficking as the use of force, fraud, or coercion to compel a person into commercial sex acts or labor against his or her will. Any person under the age of 18 who is induced into commercial sex is considered a victim of human trafficking. It is not necessary for there to be evidence of force, fraud, or coercion for victims under the age of 18. In the U.S., we have made significant progress in recognizing that minor victims of sexual exploitation are not prostitutes or sex workers. They are victims of human trafficking. The Trafficking Victims Protection Act (TVPA) was signed into law in 2000, making human trafficking a federal crime and established provisions for immigration relief for trafficking victims. The goals of the TVPA are to prevent human trafficking, increase prosecution of traffickers, and protect victims.
The engine driving human trafficking is money. Traffickers generate billions of dollars in profits every year by victimizing millions of people. Human trafficking is one of the fastest growing criminal industries in the world. According to the Polaris Project, human trafficking is a criminal industry that denies freedom to 24.9 million people around the world.
Worldwide, labor trafficking is the most common type of trafficking. However, in the United States, sex trafficking is much more prevalent. The question is often asked, "How big of a problem is human trafficking in the US?" or locally people ask "Is human trafficking a problem in Yakima County?" These are not easy questions to answer for a number of reasons. We often look to crime statistics to get an understanding about the prevalence of a particular crime type. However, studies have shown that there is chronic underreporting of human trafficking at the state and local level and it is likely that only about 10% of trafficking is captured in law enforcement records. Some of the reasons for this are:
Lack of law enforcement training necessary to identify human trafficking when they see it.
Challenges of getting victims to cooperate with law enforcement investigations due to fear of retaliation by the trafficker, mistrust of law enforcement, and/or because the victim is much more interested in obtaining the resources necessary to survive (i.e. food, housing, shelter) and less interested in assisting law enforcement.
Inconsistent reporting of human trafficking at the local level. Not all law enforcement agencies have the ability to record a crime as human trafficking in their computer reporting system and so they record it as something else. For example an investigation into commercial sexual exploitation of a child (CSEC) might get recorded as rape of a child and therefore is not accurately included as human trafficking in crime statistics.
Even though there are problems with getting accurate statistics on the prevalence of human trafficking in the United States, we do know that human trafficking occurs in all 50 states in the US. It is estimated that 71% of enslaved people are women and girls while 29% are men and boys. Overall, approximately 25% of victims are children. In 2018, over half (51.6%) of the criminal human trafficking cases in the US were sex trafficking cases involving commercial sexual exploitation of children (CSEC) (2018 Federal Human Trafficking Report). For more information on sex trafficking in the U.S. you can download the Polaris report, Sex Trafficking in the U.S.: A Closer Look at U.S. Citizen Victims.
Traffickers are skilled at recognizing and leveraging their victims' vulnerabilities to create dependency. Traffickers often use deception and manipulation to lure their victims. They may make promises of a place to live, a job, giving gifts or offering drugs and/or alcohol. They are excellent at targeting victims who are looking for a better life. Traffickers may also act as romantic partners and lure their targeted victim with the promise of love. According to the National Human Trafficking Hotline, there are identified risk factors that make certain populations vulnerable to human trafficking. Some of these risk factors include recent migration or relocation, substance use, mental health concerns, involvement with the child welfare system, and being a runaway and/or homeless youth. According to the Polaris Project, 40% of homeless youth identify as LGBTQ+ compared to 7% of the general population and are at increased risk for being trafficked. Other factors that can make individuals more vulnerable to traffickers include:
Having an unstable or unsuitable living situation
Having previously experienced other forms of violence such as sexual abuse or domestic violence
Being an undocumented immigrant
Facing poverty or economic need
Being addicted to alcohol or drugs or having a caregiver of family member who has a substance use disorder
Aspen Victim Advocacy Services in Yakima is actively working with our community partners (child welfare, juvenile justice, law enforcement, service providers, healthcare, educators, and prosecutors) to improve how Yakima County responds to human trafficking with an emphasis on commercial sexual exploitation of children (CSEC). The most common trafficking situations we see are youth engaged in "survival sex" which means they are providing sex in exchange for basic needs such as food and shelter. Youth who lack supportive home lives may see commercial sexual exploitation as their only means of survival. Homeless youth, youth who have run from foster care, juvenile justice involved youth, and LGBTQ youth are all particularly vulnerable because of their lack of emotional, social, and economic supports.
Aspen Victim Advocacy Services is a partner in Yakima County's CSEC Task Force and during this past year we have seen progress made in law enforcement identification of sexual exploitation/sex trafficking, increased prosecution, and improvement in access to services for survivors.  However, there is much more work to be done.  We want to expand our reach and invite key members from our community who are interested in making a difference.  If interested in being a part of the CSEC Task Force, contact Erin Deery, (509) 574-1288,  at the Yakima County Child Advocacy Center for additional information.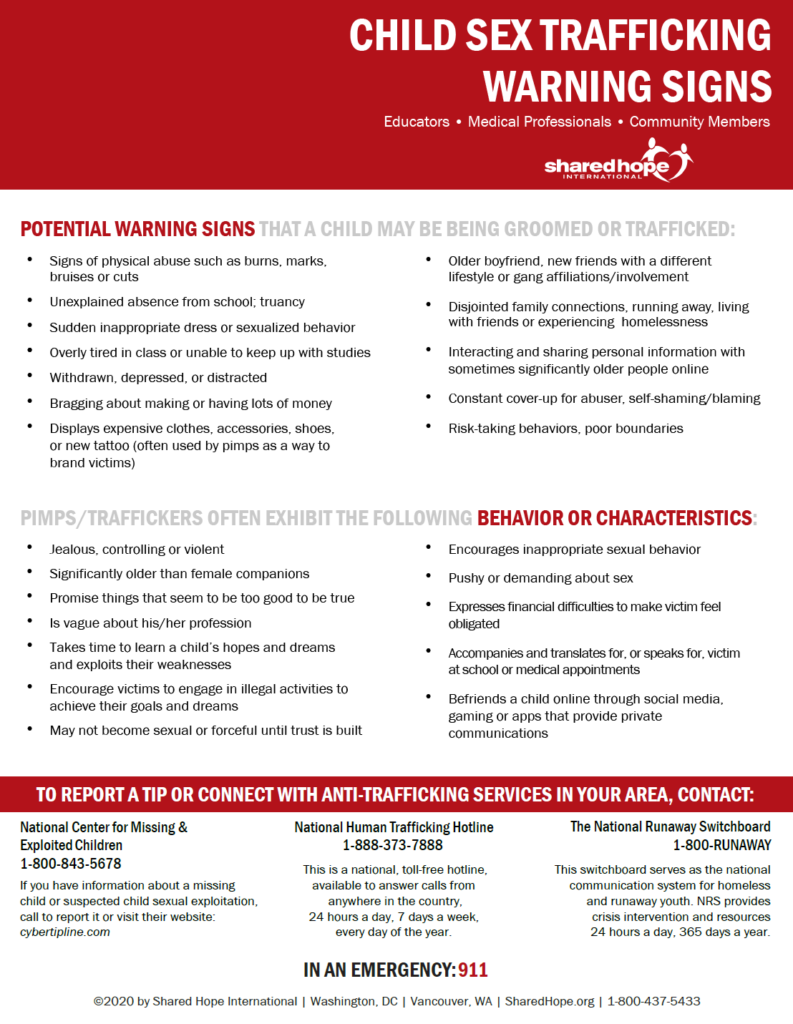 To Report a tip or connect with human trafficking services, contact:
National Human Trafficking Hotline
To get help, report a tip about a potential case of human trafficking, find service referrals for victims of trafficking, or request training or technical assistance, contact the U.S. National Human Trafficking Hotline by calling 1-888-373-7888 (TTY:711), by texting "BeFree" (233733), via live chat or email. Services are available toll-free 24 hours a day, 7 days a week.
National Center for Missing & Exploited Children
If you have information about a missing child or suspected child sexual exploitation, call to report at 1-800-843-5678 or visit their website: www.cybertipline.com
The National Runaway Safeline
National Runaway Safeline (NRS), formerly known as the National Runaway Switchboard, is the federally-designated national communication system for runaway and homeless youth. Youth and family members can connect to the 1-800-RUNAWAY hotline or 1800RUNAWAY.org online. Some individuals just need someone to talk to, others need help finding a shelter, food, medical assistance, or counseling. Some youth are on the streets. Others are struggling with issues at home. And NRS is here to listen, here to help 24/7/365.CALL 1-800-RUNAWAY
Washington Anti-Trafficking Response Network (WARN)
The Washington Anti-Trafficking Response Network (WARN) is a coalition of non-governmental organizations that provide direct services to victims of human trafficking in Washington State. Since 2004, WARN has assisted survivors of sex and/or labor trafficking to live out their desired lives without re-victimization. (206) 245-0782 – 24 hour hotline
Aspen Victim Advocacy Services
Aspen advocates provide confidential, survivor centered, trauma-informed, linguistically and culturally appropriate services to victims of crime throughout Yakima and Kittitas County.
Yakima 24 hour hotline (509) 452-9675 or Crime Victim hotline (509) 575-4824
Kittitas 24 hour hotline (509) 925-9384 or (866) 925-9384