Facing the collective consequences of the prolonged pandemic and a lack of resources in rural areas, the need for crisis services in Klickitat County has skyrocketed in recent months, breaking records previously set less than a year ago.
With the pandemic and other challenges, Comprehensive Healthcare saw a huge increase in the need for crisis services, providing 668 services in 2020 – nearly double the services we provided in 2019.

As of August 2021, Comprehensive Healthcare had already provided 774 crisis services, shattering previous records even before the end of summer.

The situation in Klickitat County is not unlike that of many rural communities across the United States. Rural areas often lack the provider access and infrastructure of urban areas, which typically have larger staffs and more frequent and affordable means of transportation to access services. The pandemic also compounds these effects, as community members everywhere deal with added stress, grief, and other mental health concerns brought on by the uncertainty and tragedy of the pandemic.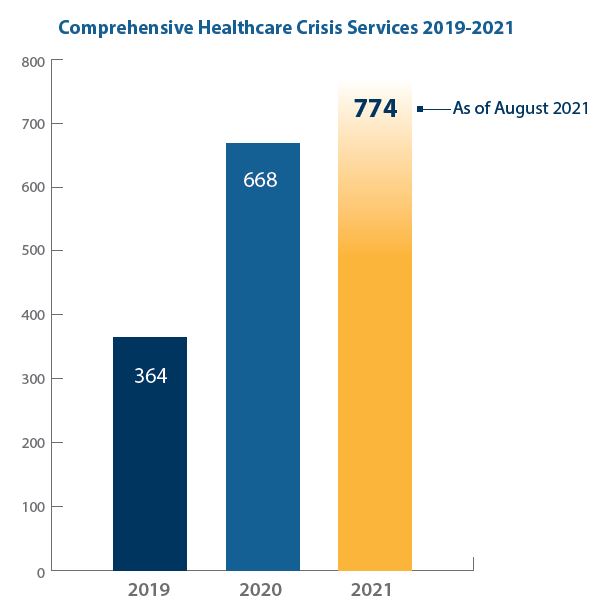 In rural areas, many farm workers are especially seeing this trend. According to a 2020 report from the American Farm Bureau Federation, two of every three farmworkers said the COVID-19 pandemic has impacted their mental health, highlighting also that the biggest barriers to care remain "cost, availability, accessibility, stigma and embarrassment."

Additionally, strong collaboration with community partners makes crisis response successful. Throughout Comprehensive Healthcare's long history of providing crisis services, the support and coordination of local law enforcement has been key. Recently, there have been some changes in this dynamic as law enforcement agencies address HB 1310, a new state law passed this spring aimed at law enforcement's response to behavioral health-related calls. The impact of the legislation has driven a decline in the number and types of distress calls law enforcement are responding to in our area. Without the traditional support of law enforcement to increase the safety of designated crisis responders (DCRs) and community members, our DCR teams' ability to respond to all calls may be more limited.

Comprehensive Healthcare continues to seek ways to increase access to care in Klickitat County, including through the crisis stabilization unit in White Salmon. While plans are still underway, Comprehensive Healthcare is looking to implement what is known as the "Living Room Model"— a safe, comfortable and pleasant environment where individuals can relax and connect with trained counselors or clinicians. These rooms have comfortable chairs, a television, warm lighting and snacks available as well. The intent is to provide a more direct stabilization center in Klickitat County, reducing the need for individuals to have to travel outside of the county to hospitals to receive care.

As our state of converging crises continues, it's important to be mindful of the burden we all carry and seek ways to extend a hand in time of need – whether that's through direct support of loved ones or by calling a dedicated crisis line to seek the help everyone deserves.