It's no secret: It can be challenging to access behavioral health services, especially in the wake of the pandemic.
Systemic workforce shortages in community behavioral healthcare have reached a critical tipping point. At Comprehensive Healthcare, we've had to temporarily close one of our programs and have experienced limited access simply because we do not have the staff to support these initiatives – and this is happening across our state. While this crisis has been building for years due to chronic underfunding, the pandemic has worsened the issue.
Together with other large community behavioral health agencies and policy leaders across the state, we are working to mobilize around a solution that would help bolster the workforce while providing greater access to high quality behavioral health care for everyone, regardless of their ability to pay.
While the problem is complex, one helpful solution is a national model for funding community behavioral health: Certified Community Behavioral Health Clinics (CCBHCs).
"Behavioral healthcare responsibility has often fallen on individual states to figure it out, which leads to a lack of standard for care and no agreement on how to properly pay providers for the full value of care they offer," said Chuck Ingoglia, President of the National Council for Mental Wellbeing. "As a result, in many states, the community behavioral health system is not funded sustainably, leaving gaps in the safety net where individuals and communities really struggle to get the care they need. CCBHCs can fix that."
The National Council on Mental Wellbeing encourages implementation of CCBHC programs across the country – with hopes to bring the model to all 50 states by 2025, an ambitious but necessary goal when you consider the rising need for mental healthcare. As part of these efforts, Comprehensive Healthcare CEO Jodi Daly also sits on the National Board for the regional communities it covers in Washington state.
CCBHCs are vital for our collaborative efforts to create sustainable funding models and address historic issues in the industry. Clients often face lack of access to care when there aren't enough providers to take on the rising case load, and it can be difficult to recruit and maintain providers when the industry faces chronic underpayment, high student loan debt, and other barriers in their pursuit of helping others.
CCBHCs help address these systemic issues by removing the fee-for-service burden that creates unequal access to care and doesn't properly reimburse providers for the full breadth of work they do when supporting a client. Instead, CCBHCs allow the funding model to provide care for everyone – regardless of their ability to pay.
Many states, like Oregon, Oklahoma and New York, have already adopted the model and have seen their organizations transformed in terms of allowing greater affordability for higher quality care. CCBHCs are required to serve everyone regardless of ability to pay, and they also create pathways for standardized expectations, quality reporting, service coordination, and proper reimbursement for providers based on the services they provide.
When wages rise and roadblocks are alleviated, our workforce will also expand, allowing more clients to access the care they need.
"The key here is that when states adopt this CCBHC model, more people are able to get care," said Ingoglia. "These clinics are vital parts of the communities they serve, and we want every state and every organization to have this same success story."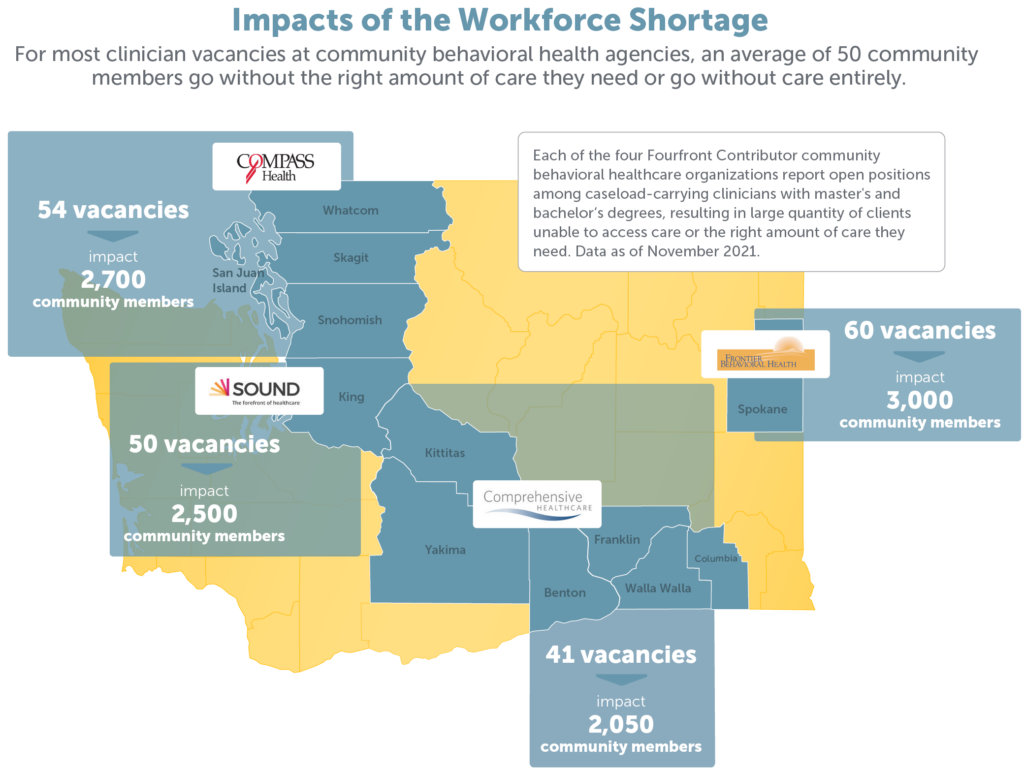 In April 2020, Comprehensive Healthcare was awarded the CCBHC Expansion Grant. The funds have allowed us to expand Medication Assisted Treatment Services, increase the number of clients receiving services in schools, and reduce readmissions to subacute detoxification and inpatient settings through the use of Peer counselors in the Yakima Valley. In addition to expanding care provisions, the model allowed us to provide community education and form relationships with underserved populations such as Veterans and those that identify as American Indian/Alaska Native within our communities. Through this process, our organization has had first-hand experience with the successes that a prospective payment model like this would facilitate.
Comprehensive Healthcare is also part of Fourfront Contributor, a coalition of behavioral health providers in Washington that contributes its collective size and expertise to improve the health of individuals, communities and the systems that serve them. In 2022, we are lobbying legislators to study the potential implementation of CCBHCs in Washington. Although Comprehensive Healthcare previously received a two-year CCBHC grant, this proposed legislation would advocate for statewide adoption of the CCBHC model, which offers more sustainable, system-wide benefits compared to the two-year grant. Learn more at forefrontcontributor.org.