National Rehabilitation Awareness Week, taking place September 20-26, is an opportunity for us all to reflect on the vital work of rehabilitation specialists everywhere, including the important work of those who provide mental health rehabilitation care.
Meet Raeann Rowe, who has been Comprehensive Healthcare's mental health rehabilitation specialist for the last two years and has served in virtually every Comprehensive Healthcare Yakima facility since 2014.
How did you begin your path to becoming a rehabilitation specialist?
When I first joined Comprehensive Healthcare, I got my start as an office coordinator at Bridges before becoming a transition coordinator and earning my bachelor's degree in psychology. My experience inspired me to then get additional training and education to become a substance use disorder professional trainee (SUD PT), which really allowed me to also expand into new roles at Comprehensive Healthcare, including becoming a mental health and substance use counselor for Pathways. I've even picked up additional shifts at Two Rivers Landing – I've been everywhere in Yakima!
I love to continue expanding my knowledge to better serve our clients. I'm currently also pursuing my master's degree in mental health counseling and completing my corresponding internship program.
What does it mean to be a rehabilitation specialist for mental health?
Helping a client through rehabilitation is a combination of case management and counseling. We serve clients with severe mental illness who have had multiple hospitalizations or served time in prison, and our work helps re-acclimate clients to the community. We also play an important role in keeping community members out of jail for the long term.
Our goal is always to help clients reach a point of independence – supporting them to become experts at managing their own mental health. The case management side of things is really about being an ear for someone as they navigate a confusing experience. For clients who have recently left prison, they may need help with learning how to cook, pay bills, and transportation, or set up telehealth. We also help clients manage the various stressors they may be facing, including facilitating communication with probation officers or navigating social services.
Our rehabilitation team is composed of case managers and assistants, and therapists and therapists-in-training. The case managers provide expanded coverage with transporting clients to appointments or dropping off medicine while the therapists help oversee coordinated care
and discharge plans.
We stay connected with a client through every step of the process. We've seen that when clients have coordinated care and a team responsible for partnering with them on this journey, we can reduce hospitalization rates and risks of returning to substance use. Because we focus on building trusting relationships, we can help stabilize clients who may just need medicine and we can help explain what's happening. The other thing is that being a mental health rehabilitation specialist means we don't choose our schedule – if you need help at 2 o'clock in the morning or you have an appointment at 7 p.m., we'll be there.
What First interested you about becoming a rehabilitation specialist?
Since I was little, I wanted to help others. I'm known in my personal life as the go-to person for support, even for my daughters' friends. Growing up, I also witnessed a lot of friends' families and my own family members struggle with substance use, and I realized I could really make a difference in helping people understand what people with substance use disorders go through.
I also feel a lot of empathy for our clients, because all of them are survivors of a broken system. Without access to family or a community support system, many of our clients endured undiagnosed mental illnesses like bipolar disorder and schizophrenia, which forced them to seek solutions in drugs which may have been the one thing to silence the voices.
It's more than just an individual's decision, it's a complex network of factors that we have to intervene in to help reintegrate individuals into the community. Being a rehabilitation specialist also means we play an important role in healing and grieving. I had a client who lost a family member to overdose, and it meant so much to be able to be there for everyone. Once someone passes, the police and the doctors aren't going to be checking in on the family to make sure everyone's okay – that's what's so
important about our work.
Recognizing you encounter challenging experiences, what inspires you to continue showing up to work every day?
I get through most of my bad days because of my clients. Even if I'm upset with something, knowing I can make a small difference in someone's life changes everything around. When I drop medicine by someone's house, clients are so grateful to see someone, sometimes for the first time all week.
One time, I had a client who was screaming at me. I wasn't taking it personally, but as I was walking away to mitigate the situation I said, "Maybe today isn't a good day for us to have a conversation, I can come back… I am here to help." As I said that, she calmed down. She just needed someone to yell at that day and hadn't had her coffee yet. Now I've learned something new about her, and when I arrive for a session, I ask if she's had her coffee yet. If not, I come back in 15 minutes. That's the job – getting to learn where your clients are at and how to meet them there in any given moment. We help with whatever they need, at whatever time of day.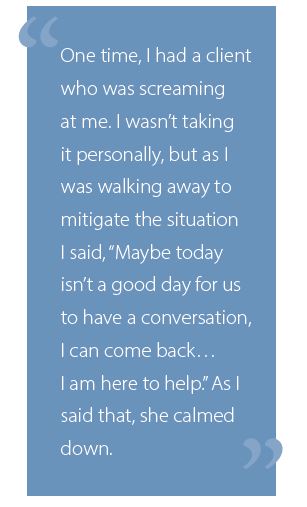 I go through a lot with my clients. Healing is never a linear path, and it's not uncommon to experience setbacks with a client. I've even been assaulted by a client before, even after taking time to build up our relationship of trust. But I still showed up to work the next day because I know the clients are worth it, and we will never give up on someone.